Last Minute Gifts That Cook
Order quick and it will land before Christmas. Make great memories with a table full of Gibsons steak, and smiling faces all around. Can't be with your loved ones this Holiday Season? We ship nationwide so your salutations arrive in style. There's a Gibsons Steak product for every budget and palate and this list is only a short guide. Every Gibsons Steak product can be sent as a gift with a short personal message. Order soon to get guaranteed delivery by Christmas Day.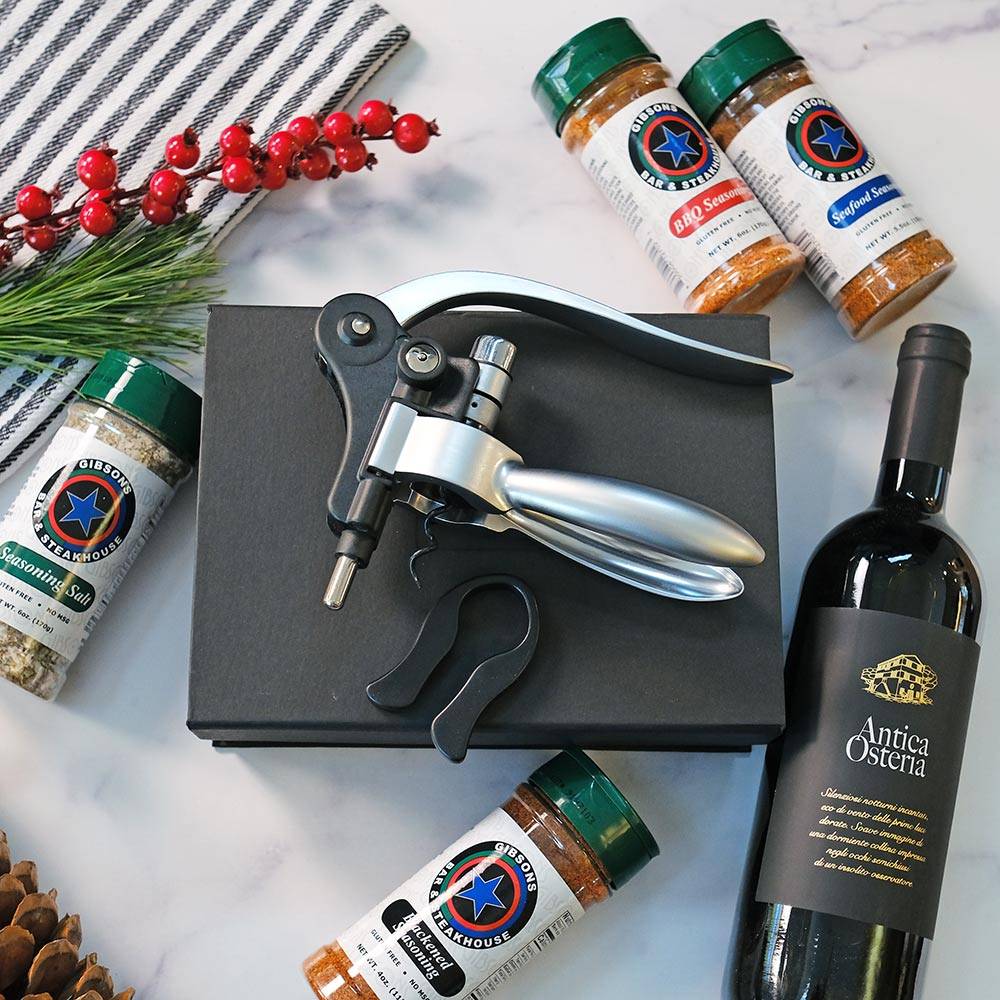 4 Seasoning Salts + 1 Gibsons Wine Opener =

$101

$90 + Shipping
Hey, sometimes you want to say "I love you" without breaking the bank. Turning your loved one onto Gibsons Seasoning Salt might actually be the greatest gift ever.  
---
The Party Box =

$147 + Shipping
How many people are coming to your Holiday party? Parents, in-laws, brothers, sisters, kids, friends? Add it up and there are plenty of mouths to feed with discerning tastes. Please the lot of them with the Party Box. Ribeyes for the steak lovers, Steakhouse Burgers and Steak Dogs for for the rest. Every Party Box comes with Gibsons Seasoning Salt. Scale your Party Box for the big bash and feast.
---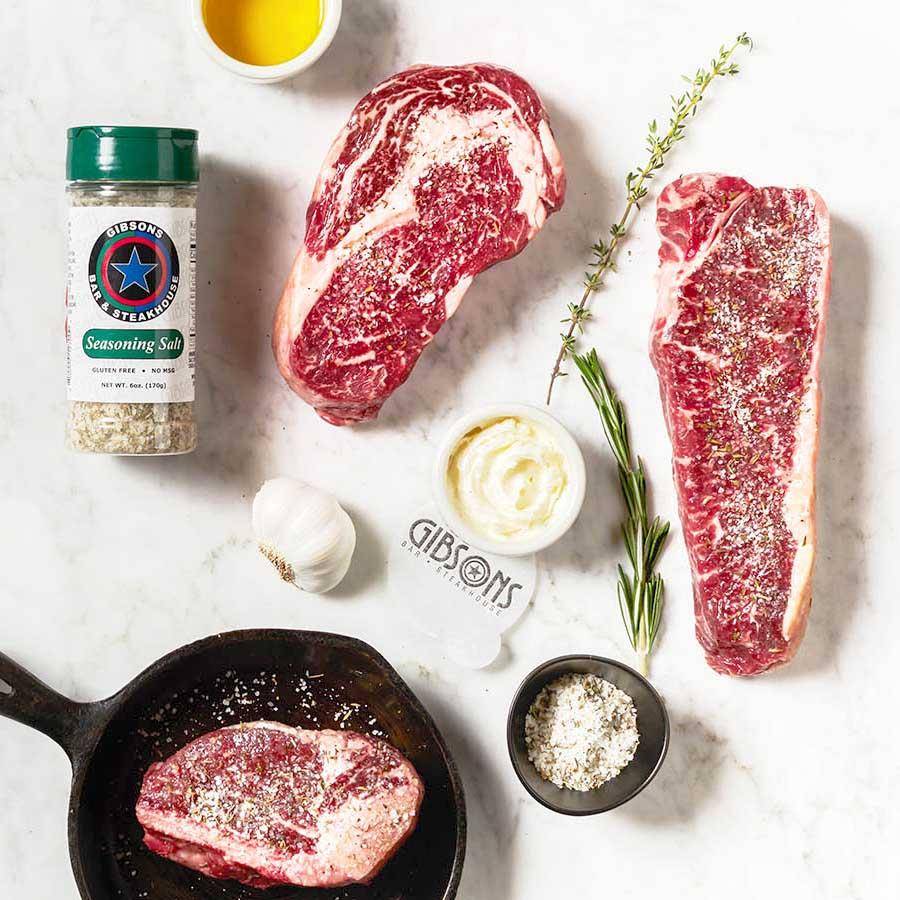 3.

The Steak-Lover Trifecta
Chicago Box =

$284

$255 (With Free Shipping)
Do you have a real steak connoisseur on your hands? Blow their minds with three top-selling Gibsons Steak Shop offerings. The GGA Ribeye, the GGA NY Strip, and the GGA Bone-In Filet are all aged for a minimum of 75 days to produce the richest flavor. These steaks are renowned for their beautiful marbling and consistent flavor. The smallest Chicago Box comes with 6 steaks and Gibsons Seasoning Salt, for serious plop factor. The largest Chicago Box comes with 18 steaks. If gifts are judged by weight first, you'll be getting extra kudos for this one.  
---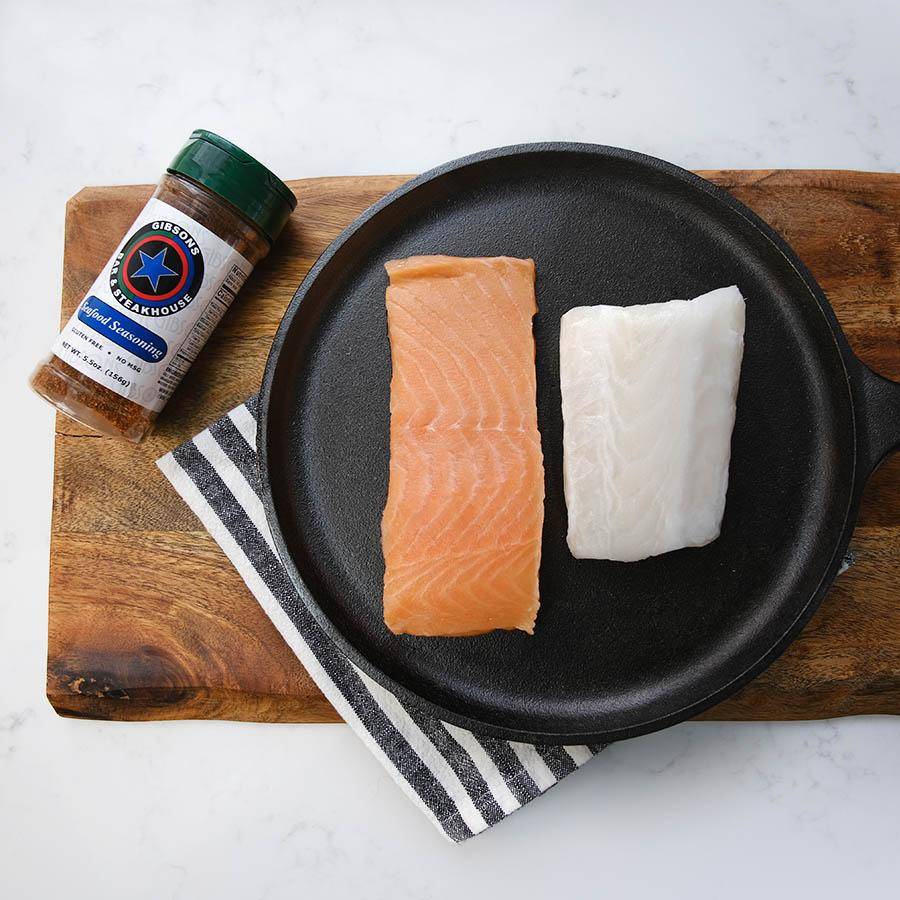 Walton Street Box

=

$127 + Shipping
Our Salmon and Sea Bass Filets are mouth-wateringly good. Yes, there are a few out there that don't always go for steak. Every fish order ships with a 6oz. Gibsons Seafood Seasoning, to elevate the flavor and deliver the authentic Gibsons experience.
---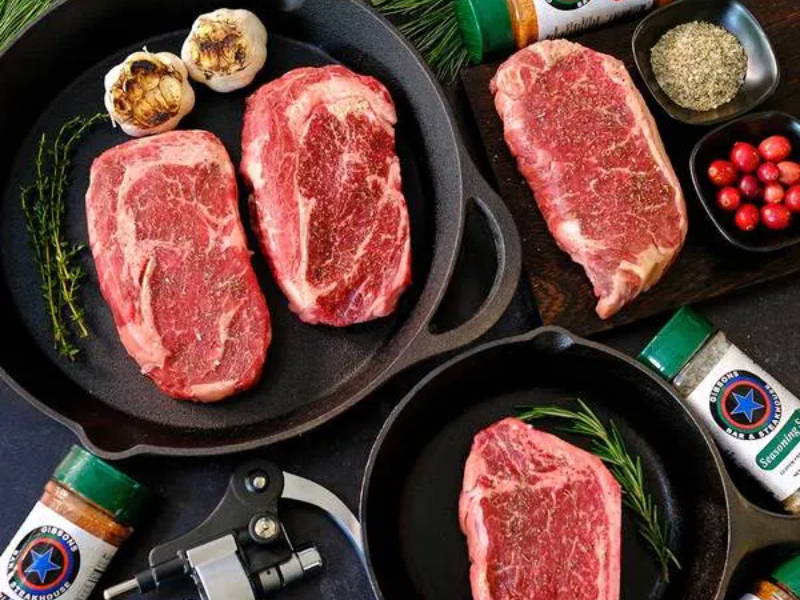 5.

The Ultimate Holiday Gift
Holiday Box =

$281.50

$250 (With Free Shipping)
The Steaks - 14oz. GGA Ribeyes | 12oz. GGA Bone-In Filets | 14oz. GGA New York Strips
The Gift Set - 1 Gibsons Wine Opener | 4 - 6oz. Bottles of Gibsons Seasonings (Original Salt, BBQ, Seafood, Blackening)
Be the hero, and give the gift that everyone wants...a giant pile of steak and a wine opener they use for years to come. You will be thanked beyond belief, and if you're lucky, offered a seat at the table. Steaks, salts, and a Gibsons Wine Opener, it's that easy.
---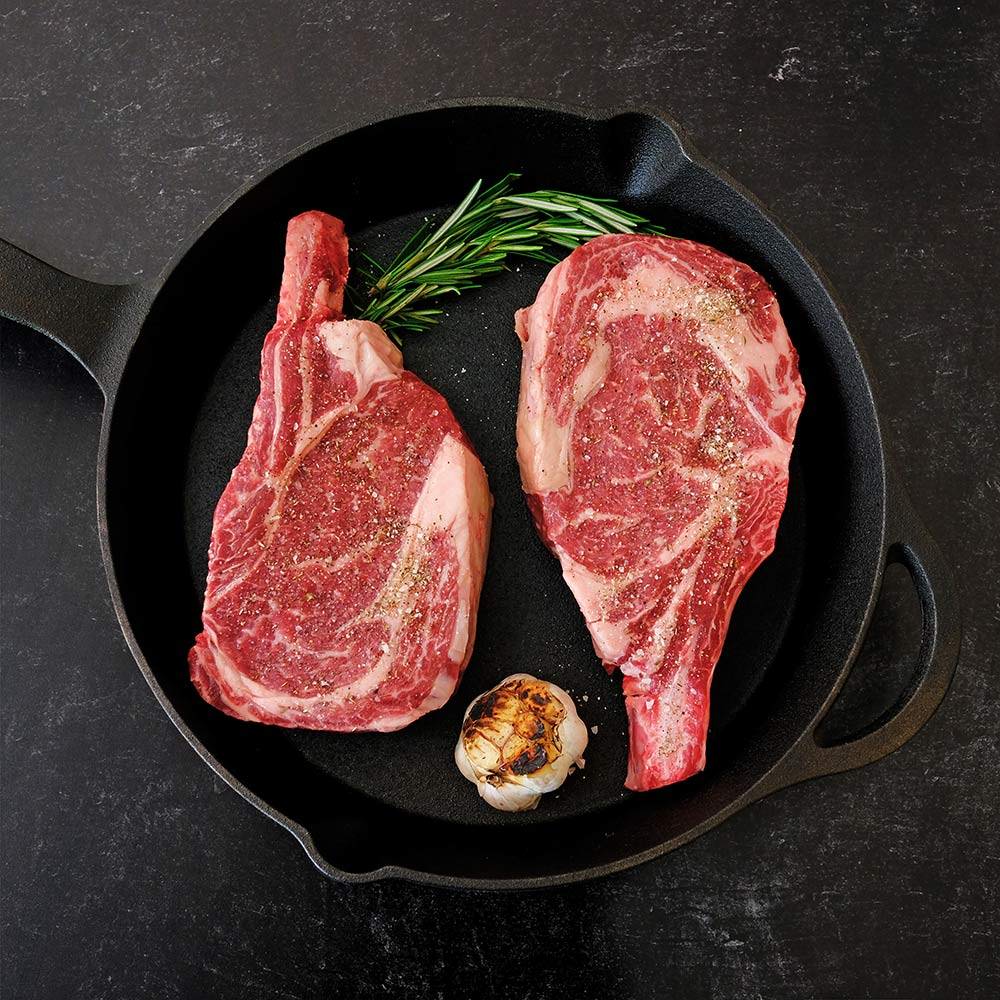 5.

For The Chicago Purest
W.R.'s Chicago Cuts =

$116

$105 + Shipping
W.R.'s Chicago Cut is the signature steak of Gibsons Bar & Steakhouse. At 22 ounces, just shy of a pound and a half, the Gibsons Prime W.R.'s Chicago Cut is a feast in itself. Deep marbling provides savory goodness to make this steak a big standout in the flavor department. The addition of the bone on this ribeye provides the extra something special to both the flavor and presentation. For the Chicago Purest, this steak is for you. Gift to your favorite Chicagoan.
---