Grilling Isn't Your Thing, No Worries

You don't need a restaurant-grade kitchen to cook an amazing steak. Chef Dan Huebschmann walks you through how he cooks a steak using an oven and stovetop. Chef will help you get consistent and delicious results every time you prepare your Gibsons steak.
---
1.) Select a great cut of meat. Gibsons offers a variety of pre-packaged steaks, ready to cook at home.
2.) Take the steak out of the fridge. About 20 minutes before grilling take the steak out of the fridge in order to bring it to room temperature. This encourages even, balanced internal temperature.
3.) Preheat your oven to 400 degrees Fahrenheit.
4.) Season the steak. Cover the meat liberally on both sides with Gibsons Signature Seasoning Salt. (Approximately 1 teaspoon per side for larger cuts)
5.) Develop a seared crust. Before popping your steak in the oven you are going to sear the crust in a hot pan on your stovetop. Get your pan nice and hot over a medium high/high heat. Lightly oil your steak with a Vegetable, Grape Seed, or Avocado oil. (It's important to use an oil that does NOT burn at a high temperature. Extra Virgin Olive Oil would not work well for this.) This should take approximately 2-4 minutes. Once the desired amount of char or caramelization is reached, move the steak off of the direct stovetop heat. Place the meat on a pan and continue cooking in the oven until desired temperature is reached.
6.) Check the internal temperature. With an instant-read thermometer check for desired internal temperature. Chef recommends pulling out the steak when the internal temperature has reached about 125 degrees for a perfectly cooked medium steak.
7.) Let the finished steak rest. Let the steak rest for about 5 minutes so it can continue to cook and the juices can redistribute evenly.
TEMPERATURE GUIDE
—
Rare  110°
Medium Rare  115° - 120°
Medium 125° - 130°
Medium +  135° - 150°
Medium Well  150° - 155°
Well Done 160° - 165°

---
Actually, I Want To Grill It Instead
Fire up that grill to 500 degrees. Chef Dan will walk you through grilling the perfect Gibsons Steak.
---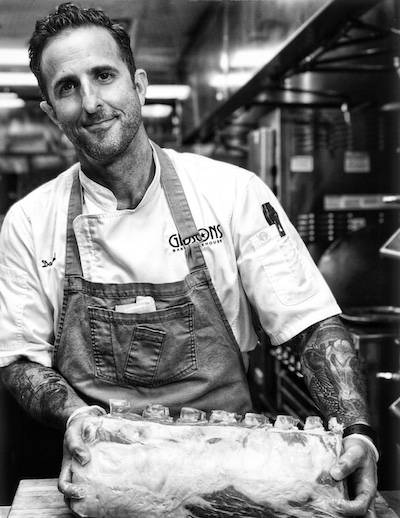 Corporate Executive Chef, Gibsons Restaurant Group
Born in Germany and raised in Miami, Florida, Daniel Huebschmann has called Chicago home since 1995, when he began his career cooking and creating in professional kitchens. He spent twenty years honing his culinary knowledge, technique and experience in fine dining and management before joining Gibsons Restaurant Group as Regional Chef in 2016. After overseeing the kitchens at the legendary flagship locations of Gibsons Bar & Steakhouse and Hugo's Frog Bar & Fish House, where he also served as Executive Chef from 2008 to 2013, Huebschmann was promoted to Corporate Executive Chef in 2017 and achieved Managing Partner in 2019. He continues to lead the culinary team with an enthusiastic commitment to excellence in quality, consistency and service.
Prior to joining Gibsons Restaurant Group, Huebschmann was the Corporate Executive Chef for The House of Blues, Executive Chef at The Club House in Oak Brook, Illinois, and General Manager and Executive Chef with Restaurants America, whose portfolio includes Bar Louie and Townhouse. Huebschmann is a 1998 graduate of The Cooking and Hospitality Institute of Chicago.

@chefhuebsch