Gibsons Executive Chef Dan Huebschmann walks us through how to perfectly prepare a simple Mint Jelly to pair with your Gibsons Lamb Chops.
---
⅓ cup Fresh mint leaves (packed)
1.5 tsp Fresh squeezed lemon juice
4.5 fl oz Water
3 TBS Liquid Pectin
Optional Green Food Coloring
Rinse mint leaves and finely chop

Place the mint into a saucepan with water and bring to a boil. Immediately remove from heat, cover, and allow to steep for 10 minutes

Strain the liquid and return to the sauce pot

Stir in the lemon juice

Add the sugar and stir

Return to medium-high heat and bring to a simmer

Once simmering stir in the pectin

Simmer for 1 minute while constantly stirring

Remove from the heat, using a spoon, remove any foam that may have formed

Transfer to a storage container and cool
---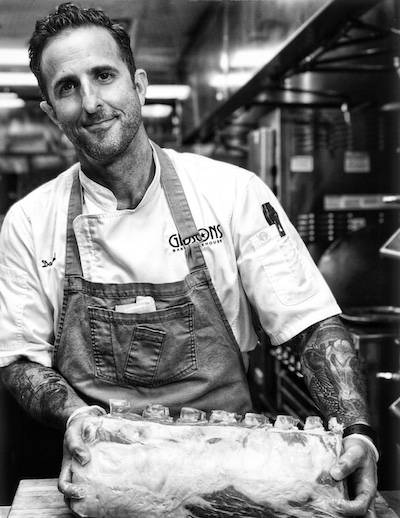 Corporate Executive Chef, Gibsons Restaurant Group
Born in Germany and raised in Miami, Florida, Daniel Huebschmann has called Chicago home since 1995, when he began his career cooking and creating in professional kitchens. He spent twenty years honing his culinary knowledge, technique and experience in fine dining and management before joining Gibsons Restaurant Group as Regional Chef in 2016. After overseeing the kitchens at the legendary flagship locations of Gibsons Bar & Steakhouse and Hugo's Frog Bar & Fish House, where he also served as Executive Chef from 2008 to 2013, Huebschmann was promoted to Corporate Executive Chef in 2017 and achieved Managing Partner in 2019. He continues to lead the culinary team with an enthusiastic commitment to excellence in quality, consistency and service.
Prior to joining Gibsons Restaurant Group, Huebschmann was the Corporate Executive Chef for The House of Blues, Executive Chef at The Club House in Oak Brook, Illinois, and General Manager and Executive Chef with Restaurants America, whose portfolio includes Bar Louie and Townhouse. Huebschmann is a 1998 graduate of The Cooking and Hospitality Institute of Chicago.