Salmon with Lemon Butter Sauce
Gibsons Executive Chef Dan Huebschmann walks us through how to perfectly prepare a salmon filet with lemon butter sauce. Salmon is a Gibsons staple for good reason, it's got big flavor and isn't too fussy about how it's cooked. Dressed up or down, its unmistakable flavor always finds a way through. This Gibsons Salmon filet recipe with Chef Dan's Lemon Butter Sauce is case-in-point. It will deliver Wednesday night after work and again on Saturday for the big to-do. In short, it's crazy good and accessible.
---
Salmon
Gibsons Salmon
Gibsons Seafood Seasoning or Gibsons Seasoning Salt
Corn oil, grape seed oil or avocado oil as these react more favorably with higher temperatures

Lemon Butter Sauce (Makes Approximately 2 Cups)
2 tsp Olive Oil
1 tbs shallots (chopped)
¼ Cup white wine
¼ Cup heavy cream
½ lb unsalted butter (cut into cubes)
1  Lemon (juice)
1 tsp kosher salt
Salmon

1. Preheat oven to 450'F' ( 425'F with fan on high setting if using convection oven)
2. Brush Salmon filet with oil (corn oil, grape seed oil or avocado oil as these react more favorably with higher temperatures) and season with Gibsons Seafood Salt
3. Brush a baking rack or the base of an oven proof pan with oil (a rack is preferable as this will encourage more even cooking)
4. Cook for 10 minutes and then check the internal temperature with a meat thermometer
Rare- 110'F

Medium Rare 115'F-120'F

Medium- 125'F-130'F

Medium Well- 145'F- 150'F

Well Done- 160'F-165'F
5. Once cooked to desired temperature remove from the oven and allow to rest for 1-2 minutes before gently plating using a metal offset spatula (do not use tongs)


Lemon Butter Sauce
1. In a stainless steel saucepan, add oil and place over medium heat
2. Once warm, add the shallots and salt and allow to sweat for 1 minute while stirring frequently DO NOT BROWN
3. Add white wine and allow to reduce to almost dry (au sec)
4. Add the cream and reduce by half
5. Whisk in the cold butter cubes piece by piece over medium low heat
6. Once completely melted, immediately remove from heat
7. Add lemon juice and strain through a fine mesh strainer
8. Do not continue to cook, ideally serve immediately
Salmon Cooking Temperature
—
Rare- 110'F
Medium Rare- 115'F-120'F
Medium- 125'F-130'F
Medium Well- 145'F-150'F
Well Done- 160'F-165'F 
---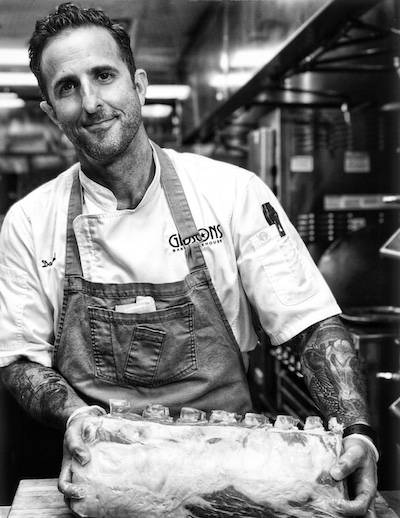 Corporate Executive Chef, Gibsons Restaurant Group
Born in Germany and raised in Miami, Florida, Daniel Huebschmann has called Chicago home since 1995, when he began his career cooking and creating in professional kitchens. He spent twenty years honing his culinary knowledge, technique and experience in fine dining and management before joining Gibsons Restaurant Group as Regional Chef in 2016. After overseeing the kitchens at the legendary flagship locations of Gibsons Bar & Steakhouse and Hugo's Frog Bar & Fish House, where he also served as Executive Chef from 2008 to 2013, Huebschmann was promoted to Corporate Executive Chef in 2017 and achieved Managing Partner in 2019. He continues to lead the culinary team with an enthusiastic commitment to excellence in quality, consistency and service.
Prior to joining Gibsons Restaurant Group, Huebschmann was the Corporate Executive Chef for The House of Blues, Executive Chef at The Club House in Oak Brook, Illinois, and General Manager and Executive Chef with Restaurants America, whose portfolio includes Bar Louie and Townhouse. Huebschmann is a 1998 graduate of The Cooking and Hospitality Institute of Chicago.