Simple, savory goodness. Nothing is guaranteed to please like a big juicy burger. But, not all burgers are on the same level. Chef George Pagonis of Kyma Flatiron in New York City sent us his next-level Steakhouse Burger with Feta Yogurt. The Feta Yogurt is bright and tangy, which works beautifully with the savory goodness of our GGA Steakhouse Burger. A sturdy, reliable burger go-to. It's like a symphony in your mouth.
---
Feta Yogurt
1 Cup Feta Cheese, preferably imported
1 Cup Greek Yogurt, preferably Fage
1 Tbsp Dry Oregano
4ea, Garlic Cloves, confit and chopped
1ea Lemon Zest and Juice
Salt and Black Pepper
Olive Oil
Burger
Gibsons GGA Steakhouse Burgers
Beef Steak Tomato, sliced
Red Onion, sliced
Romaine Lettuce, sliced thin
Gibsons Seasoning Salt
Feta Yogurt
Brioche Bun
Feta Yogurt
Mix together all of the yogurt ingredients into a bowl.


Cooking Your Gibsons Steakhouse Burger

Preheat grill, turning half of the grill to max heat and other half lower to about 3/4 of max heat. Be sure to clean grill with a brush and finish by wiping down with oil using a paper towel or rag.
Season burger with Gibson Seasoning salt on both sides.
Place burger on grill and leave it there for about 6 to 7 minutes. Cross hatch the burger by turning the burger on the same side by 45 degrees.
Flip burger and repeat the same process, and you should reach about Medium Rare (125-130).
If you desire your burger with a bit more doneness, transfer them over to the lower temperature part of the grill.
Plate Your Dish
—

Cut Brioche bun in half and toast on the grill.
Apply the Feta Yogurt on both buns.
Add burger on bottom bun, then add tomatoes, onions, and lettuce.
---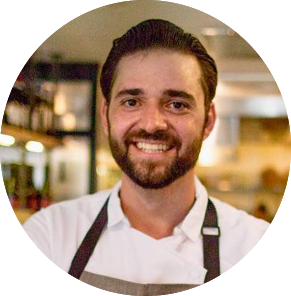 Executive Chef, Kyma Flatiron
George Pagonis is Executive Chef of Kyma Flatiron in New York City. Prior to joining Kyma, George opened Anassa Taverna in Astoria, New York, for the Avra Group. George helped put mainland Greek cuisine, including daily whole animal roasting, on the map in the nation's capital when he opened Kapnos in 2013. He competed on season 12 of the hit Bravo TV series Top Chef.
Before opening Kapnos, Chef George worked for Chef Charlie Palmer at Aureole in New York City. George's first time professionally cooking Greek food was at Jose Andres' Zaytinya in Washington DC. His first tour of duty in a fine dining kitchen was at New York's Le Cirque under Chef Christophe Bellanca. Chef George attended the University of Mary Washington where he received a bachelors degree, and then followed that up with a degree from the Culinary Institute of America. He first earned his kitchen stripes at The Four Seasons, an Alexandria, Va. Greek diner owned by his father.